Wizkid'd Bodyguard Sues Owner Of DNA Night Club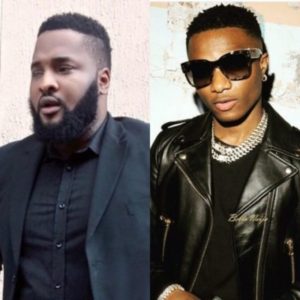 You would recall we brought you news of Wizkid's body guard; Roy Emmanuel Obinna popularly known as Roy, being a victim of serious facial injuries from a sad event that occurred at DNA club in Lagos on the 17th of November, 2018.
Well, the issue has now been taken to court. The issue which has to do with Roy sustaining an injury and Wizkid owing the Lagos night club the sum of 8 million naira, and also a pool party bill of 7 million naira has been taken to an Igbosere Magistrate Court in Lagos, according to reports.
The court made the revelation of Wizkid's debt during the arraignment of the chairman of Poshhills Entertainment; Olufemi Olusanya popularly known as Femi Posh and the bouncer that reportedly stabbed Roy.
Reports from Vanguardngr suggests that Roy was reportedly beaten at the time he was making attempts to settle Wizkid's 15 million naira debt. Afari and Posh who are 29 and 38 years of age respectively, are facing a three-count charge of conspiracy, unlawful assault and grievous bodily harm.
During the arraignment of Femi Posh and Afari, the police prosecutor; Inspector Joseph Jimoh, said to the court that the offences committed are punishable by law under sections 411, 173 and 245 of the criminal laws of Lagos State 2015.
The duo however pleaded not guilty to the charges leveled against them, their lawyer; D. Mustapha, pleaded with the court to liberally make a ruling that will see the two enjoy the benefits of bail as the issue is already being taken care of internally, adding that the complainant's medical bills is already being attended by his clients.
Apparently the magistrate by name Y.O Aro Lambo, who stood-in for Magistrate O.O. Oshin, granted the defendants bail in the sum of 500,000 naira each.
The case has now been adjourned till next year, precisely the 17th of January, 2018.
Artistes Who Have Fallen Short Of The 'Glory' In Recent Times
The biblical phrase 'how are the mighty fallen' seems like the only appropriate way to label a certain group of Nigerian artistes who have fallen off the path of greatness that they once towed.
Once they were beaming with lots of tremendous prospects and promises but have not lived up to their full potential and unfortunately had a rapid decline in public appeal.
At some point these guys were up there in their glory days, in fact they were even tipped to become the standard for the industry in some years to come. But contrary to all the good ratings they were accorded, and serious good will,  the reality is that they're not as good as they hype.
These few artistes listed are those that come readily to mind when you think of how much some artistes have fallen out of favour.
Korede Bello
Nigerian singer Korede Bello and member of the Don Jazzy-led Mavin Records used to be one of the most loved young emerging artistes in the music industry. In fact since his infamous wink in 'Dorobucci', Korede Bello showed signs he was here to stay, young and full of promises. From 'Dorobucci' to 'Adaobi' he gained massive support from the fans especially the ladies. His biggest break to date being 'God Win' was an instant monster hit, winning him the Headies 'song of the year' in 2015. After the heroics of 'God Win', other hits like 'Romantic' and 'Do Like That' the Afro wearing singer slumped per his ability to stay relevant with banging tunes. Korede Bello self titled album has to be one of the worst debut albums in the history of debut albums.
Lil Kesh
Born Keshniro Ololade, Nigerian music star Lil Kesh would be another artist who has suffered a steep decline in star power. The former YBNL rapper and protege to Olamide was a street sensation with some of the biggest streets hits 2 – 3 years ago. A 'Next Rated' nominee and another young star full of prospects, recently Lil Kesh has disappointed his followership and core fans as his growth has stagnated. Except for a few collaborations he has been featured in which have kept his head above water, most of his songs post-YBNL have been met with a stalemate.
Vector
One of Nigeria's finest gems when it comes to rap used to be Vector. Since his official debut his music efforts have always been greeted with wide acceptance up to his sophomore 'Second Coming' album. Post-YSG Vector has disappointed the rap faithful in Nigeria and all those who thought big things for him. His highly anticipated third studio album 'Lafiaji' was obviously a flop as the project did not fly, neither did it change the rap game a bit. These days nobody really looks up to VEC as a role model as it concerns rap. Do you know Vector released an EP some weeks back titled 'The Rap Dialogue'?  Surprisingly some of his fans aren't aware of the rapper's moves again; he lost them all.
Jesse Jagz
Talented? Yes! Lack of talent has never been the problem with Jesse Jagz. It may have to be his inconsistency or laissez-faire ethic to work. Everyone seems to rate Jesse Jagz but apparently, the rapper has failed several times to ride and rise on the sheer hype he enjoys from fans. It's genius to remember Jesse Jagz was the producer behind some of the biggest hip-hop hits from early Chocolate City, plus he was a good rapper to top it up. Several years after it seems Jesse Jagz has failed to live up to his full potential in the music industry as a rapper cum music producer. The moral lesson from emperor Jagz is that raw talent isn't always enough to keep you on top, it takes more than talent.
Chidinma
Some fans who are still sympathetic to the petite Miss Kedike may often time be wondering what went amiss with the singer. Chidinma was full of promises from her first taste of limelight with MTN project fame. She had grown in leaps and bounds albeit organically with her music while winning fans over. During her best days, she charted a few records and won top awards across Africa like the Kora Awards etc. She was almost the S.I unit for how successful a female artist should be. Somewhere along the journey, Chidinma, unfortunately, lost her balance and fell from glory. These days, the likes of Yemi Alade, Niniola, Simi are headlining their own concerts something Chidinma had not done during her glory days.
YCEE
Oludemilade Martin Alejo aka YCEE hasn't been in form of recent for someone who was thought to revolutionize the rap game with the new flavor. The Tinny Entertainment act has had one of the fastest growth as a rapper in recent times no doubt. However, YCEE hasn't been able to sustain the growth and momentum with chart-topping singles anymore. 'Jagaban' introduced him, 'Omo Alhaji' gave him more fans, 'Juice', put him in the 'Next Rated' category but nothing else has been forthcoming from the rapper. Since his debut, YCEE has released two EP's, one of which was a collaborative effort with Bella Alubo. At the moment it seems the once raving rapper has run out of creative juice.