Brock Lesnar
 and Alexa Bliss
To be a megastar in WWE takes a lot of determination, hard work, luck, and most of all, good health. WWE Superstars are supremely fit athletes who train and work hard to be in fantastic physical shape.
These Superstars put in hours of training every day to look the way they do and be prepared for the 
rigors
 of life on the road. Some Superstars have an even tougher task of battling health conditions to stay in tremendous physical fitness.
Here, we take a look at five current WWE Superstars who battled life-threatening diseases and returned to WWE:
#5 Brock Lesnar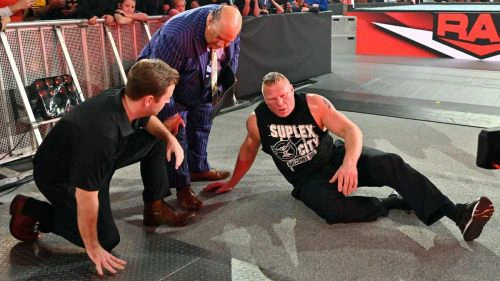 Paul Heyman and Brock Lesnar
Ever since his 
debut
 in WWE almost two decades ago, Brock Lesnar has been at the top of the WWE food chain when he's signed with the company. 
The Beast
 still looks in fantastic physical shape, despite wrestling in WWE, fighting in UFC, and other wrestling promotions.
Lesnar
, though, has had to battle through a serious health condition called diverticulitis, which almost killed him.
Paul Heyman spoke about how Lesnar battled the disease and revealed that the former UFC Heavyweight Champion could have died due to the life-threatening disease.
 "It was during Brock Lesnar's battle with diverticulitis that we were writing his book. So I lived a lot of that with him, through his comeback fight with Shane Carwin in 2010. Of course there were concerns. The realization that diverticulitis robbed Brock Lesnar of just how great he could ever become. The battle with diverticulitis was a very humanizing time for Brock Lesnar. And he didn't like it. He was very concerned. He almost died from it. And then rightfully concerned with how much of his career he was going to be robbed of and deprived of."
Lesnar returned to WWE a few years later and has won numerous titles with the promotion.
#4 Big Show
Big Show will go down in history as one of the best big men in pro wrestling when he eventually retires. When he first debuted in WCW over two decades ago, he portrayed a character who was the son of Andre the Giant, who had died a few years earlier.
Big Show, like Andre, had acromegaly, a condition where the bones enlarge in size. Show had been warned by doctors that if he didn't get operated, he would probably not survive past 45 years of age. He got operated and he's still healthy at the age of 48.
"They have to go in, chip out that little pocket of bone, with a laser, cut the tumor and hopefully not damage the pituitary gland because the pituitary gland runs so many senses: your eye moisture, tear ducts, nasal passages and your testosterone… it's like a governor for so many things in your body that – that surgery sometimes, if not done properly can damage other things so then you're on medication the rest of your life just to try and be normal. So I got really lucky and everything turned out. One of the bad side effects to Acromegaly is it leads to diabetes and a lot of things if not corrected so I got lucky with it."
Another WWE Superstar, The Great Khali, also had acromegaly, and he was operated on late in his life in 2012.
#3 Jerry "The King" Lawler
WWE Hall of Famer Jerry "The King" Lawler suffered a cardiac arrest on a live RAW show when he was on commentary. Lawler had wrestled in a match just a few minutes prior to the cardiac arrest. He revealed in an interview that Dolph Ziggler landing blows to his heart in the match caused him to suffer the cardiac arrest.
But the Hall of Famer survived this traumatic ordeal thanks to the WWE doctors that were there ringside to help him get his heart beating once again.
Here's what Lawler said of that traumatic event:
"And only seven out of 1,000 people who [suffer] cardiac arrest survive. Usually those seven out of a 1,000 people survive because they're in a hospital or get immediate care. And just fortunately, our ringside doctor was right there with the paramedics up in Montreal, started CPR immediately. It was still 22 minutes before my heart beat. And then they got the paddles and shocked me seven times. The crazy thing was, my heart had been knocked off-rhythm, I believe by the elbows. By Dolph Ziggler. And it took about ten minutes for it to just freeze up and stop. Once they got the heart back on the correct rhythm, I haven't had one minute's problem since. I've been fine, knock on wood."
Lawler continues to commentate on WWE television and has even wrestled in various indie promotions since. Although, he hasn't wrestled in WWE since that match in 2012.
#2 Alexa Bliss
Alexa Bliss has faced a lot of obstacles in her journey to the WWE. Bliss came through the ranks at NXT, before becoming a multi-time WWE Women's Champion. She has faced brickbats from fans for not being very good in the ring at the start of her WWE career, but she has now silenced her critics as her ring work has improved drastically.
Bliss had overcome obstacles earlier in her life as she revealed how she faced a severe eating disorder in her teens, which almost caused her death.
"When I went to the hospital, I almost went into cardiac arrest. And I wasn't allowed to go to sleep—they thought I'd die if I did. Dealing with eating disorders, anxiety, and depression, I'm no stranger to mental illness. Every few years, I deal with a really bad spell of depression. You have to know it doesn't have to overtake your life. Mental illness can dictate someone's entire life. I put myself in a position to be in the public eye, but I'm doing what I love. I've gone to therapy, I've done everything I can do to get my brain in a healthy place."
She's now healthy and has become a hero for others suffering from eating disorders, while she is on course to have a very successful WWE career in the ring.
#1 Roman Reigns
Roman Reigns made a shocking announcement to the WWE Universe in 2018 when he revealed that he was diagnosed with leukemia. He was first diagnosed with the disease over a decade earlier when he was a professional football player.
Reigns battled and defeated the disease and returned to WWE a few months later in February 2019.
The Big Dog spoke about his battle with leukemia and had encouraging words for those that suffer the same disease.
"I think there is ignorance of leukemia. The word alone is intimidating. 'Leukemia' it sounds like a cancer word. It sounds like it could take your life. What people haven't realized is the different phases. That's the whole thing about me and this huge WWE platform, that's why I want people to know. I want people to understand that it's not what people see in the movies. We're in a different place now; we are making advancements, there are things we are doing to help people and save lives – we just don't always concentrate on those things."
He has become a prominent advocate for causes related to leukemia and has become an inspiration for thousands of people worldwide.